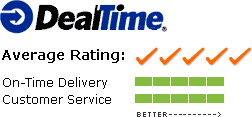 Read Dealtime Reviews Ľ
---
See Our Amazon Rating
---
See Our Ebay Rating
---
Read Shopping.com Reviews Ľ
A little over a week ago, I placed an order for V-neck hospital
gowns for my mother. She has been bedridden for two and a half years and lives at home. The only gowns I have been able to find for her have round necklines, which are very uncomfortable for her. After having placed an order through your website, I received a return message requesting that I call.
The woman with whom I spoke advised me that the type of gown I had ordered was not available in my mother's size. After staying on the line
with her for several minutes, as we both went through the website together trying to find something that would work, she asked me to hold on for a moment. When she got back on the line, she told me that some new items might become available and that she would do her best to send me some gowns that would accommodate our needs.
The package arrived two days ago. To say we are thrilled is an understatement. For the first time in two and a half a years, my mother doesn't look like a patient in a nursing home, just mom lounging in the family room. The gowns are beautiful! First of all, they have the ever elusive V-neck. They are lightweight and comfortable, in pretty floral prints (several different ones) and are even trimmed with lace and ribbons. You cannot imagine the difference it has made for my mother
to be able to wear something pretty.
Thank you so much for your efforts and for following through. As a customer service representative for a commercial printer, my job is help clients get what they need, when they need it, so I appreciate even more the time and thought that went into filling my order. I only wish I knew that name of the women who helped me. That is why I am
e-mailing this letter in the hopes it will end up at the desk of that person. You are an asset to your company. Thank you.

Sincerely,
Salli Gutierrez